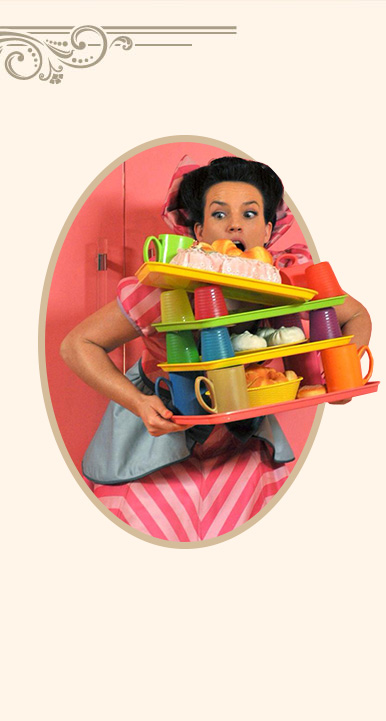 Bio

Kate Wright is an actor, physical performer, MC and circus artist from Adelaide, South Australia.
     Kate has performed in 21 countries since she started touring in 2005.  She is a co founder of hilarious double act 'OzStar Airlines' which toured full time on the international festival circuit for 6 years and is still being performed coming into its 10th year since it was created.
     Kate has worked extensively with UK theatre company 'dotComedy' performing in a large repertoire of different productions since she starting working with the company in 2009.
     Kate has created solo shows 'Ding Dong, Yvonne Calling' (which she received funding from Adelaide Fringe to create) and 'Katie Wright Dynamite!' which she has toured in Europe, Canada, New Zealand, United States and Australia.
Some festival highlights include The London National Theatre's 'Watch this Space' program, (UK)  Oerol Festival (NL),  Festival of Fools (IE), Stockton International Riverside Festival (UK), Karavaan Festival (NL) and Passage Festival (Denmark).
     In 2013 Kate scored the role as 'Mimi' in ABC KIDS popular TV series 'Hoopla Doopla'. She featured as a series regular in all 52 episodes.  Since the show aired, Kate has toured Hoopla Doopla as a part of the 'Giggle and Friends' tour presented by Live Nation.
Kate has a Bachelor of Arts majoring in Dance and Drama from Deakin Univeristy and a Diploma of Circus from CircoArts and has trained as a youngster with Adelaide's Cirkidz Youth Circus.
Katie's newest show is 'The Dynamite Duo" with her partner Bonebreaking Leo. This show is currently taking bookings for the 2020 EU/UK and Canadian summer season.
Education:

Bachelor of Contemporary Arts from Deakin University with a double major in Dance and Drama
Diploma of Circus Arts from CircoArts
Masters of Teaching Primary from The Unversity of South Australia
In late 2012 as the Director of a new children's television series, 'Hoopla Doopla', I was on the lookout for 3 highly skilled circus performers with great acting ability to form part of my cast. This proved to be a very difficult task with over 400 auditionees trying out for the various roles. Most had great skills but were lacking on the acting side. Katie was one of the exceptions. She stood out as a natural comedic talent with amazing juggling skills, and an irresistible connection to the camera" - Mark Barnard Director Ankle Biters Film and Television Drama Director 'Hoopla Doopla'