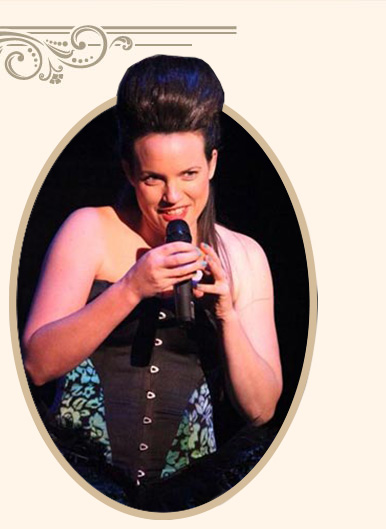 MC
Kate is funny, clever, gorgeous, quick-witted, and highly skilled and audiences absolutely love her. Why wouldn't you, she has a fabulous down-to-earth, super charismatic personality that is fun and lovable and audiences of all ages love her. Kate always delivers; she is professional, versatile, has great circus tricks in her repertoire and is a great improviser, all of which makes her a terrific host/mc" - Greg Clarke , Director and CEO of the Adelaide Fringe Festival.

Katie Wright Dynamite can provide a Classical or contemporary Circus Ring Mistress, Variety show MC, MC for corporate events, community events and more. KWD has introduced and back announced literally hundreds of artists, VIP's, CEO's, Mayors, community leaders, prize winners and more. No event is too big or too small.
Katie believes that the job of a good MC is to support the acts or speakers that are onstage while continuously keeping the energy of a show at the right levels.
When working as an MC, Katie uses her quick wit, circus skills, stage presence and energy to manipulate the flow of the show/event. If the energy of the audience needs to be lifted she can do that with comedy or circus, if it needs to be maintained she can maintain it.
As MC Katie is an expert at reading an audience ensuring a well-rounded show or event.
Katie is a firm believer in providing a professional MC service that looks after the client, the speakers or artists and entertains an audience. Katie believes to MC is to look after the client to bring energy to their festival/corporate event, community event or show. This is done through consultation with the client to deliver the best approach that they are wanting for their event/show.
She seamlessly makes a show flow and gives it a spice and strength that carries and connects the acts throughout the show.
As MC Katie Wright Dynamite can:

Perform the ridiculous to the straighter character to something inbetween.
Can perform short juggling or hula hooping rourines to top and tail the show or to fill time for longer stage set ups/change overs.
Can create a character which is themed just for your event: For more information on this see my CREATIVE CONSULTANCY page.
Katie has years of experience talking with clients, stage technicians, stage hands, artists and speakers so will expertly handle all communication leading up to and on the day of the event.
She can perform the ridiculous to the straighter character to something in between. Get in touch at katiekwright@hotmail.com to talk over your event and needs.
Some of Katie's MC and Ring Mistress credits include:

And hundreds more!
For the past five years she has hosted the Fringe's main showcase- stage in Adelaide's Rundle Mall winning over audiences with a number of hilarious and unique characters she developed especially for the role. The Fringe stage featured a diverse range of Fringe artists' showcasing their work and Katie's role as MC meant she had to introduce hundreds of artists over the 4 weeks of the Festival. Long days and a diverse line-up never seemed to faze Kate who consistently kept audiences entertained and coming back for more. She always ensured the show flowed and the energy was kept up for both the audiences and the non-stop line-up of guests that she also looked after" - Greg Clarke , Director and CEO of the Adelaide Fringe Festival.
Gallery
Download

MC.zip (45Mb)